Our technologies to connect your assets
Sensors
Our sensors measure your tanks levels or your meters energy flow several times per day. These readings are transmitted to our secure servers on a regular basis.
MySilentSoft®
You can have access to our PLATFORM whenever your want on your computer or tablet/smartphone. In only a few clicks, you can personalize your alarms to fit your specific needs.
Servers
Our own infrastructure manage hundreds of thousands of measurements per day and automatically calculate your daily stock levels and consumptions.
Customer Service
From the installation to the lifetime of your subscription, our service is always available for assistance. This tailored support makes all the difference!
Our Web technologies to monitor your Assets
On the MySilentSoft® platform, you get a dedicated online space to monitor your tanks and meters and configure your alerts
We serve property managers, oil and gas distributors for more than 20 years. Our online platform MySilentSoft® allows you to analyze your tank levels and meter consumptions.
On top of configuring personalized alarms, you can follow open tickets and intervention orders offering you the best quality of service over the lifetime of your subscriptions.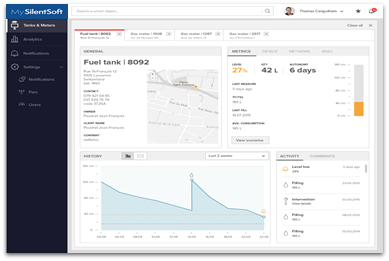 MySilentSoft® is a complete platform that allows you to remotely manage your tanks and meters anywhere via a simple web interface. It integrates the latest generation of equipment depending on the type of measured product. 
MySilentSoft® interprets the messages of the different sensors transmitted via modems on Internet of Things (IoT) public networks.
Multiple Network technologies available
To connect our sensors and loggers from your equipments to our online platform, we select the most efficient wireless networks from 2G/3G/4G to new low power networks such as LoRa, Sigfox, LTE Cat-M1 or NB-IoT.